Outing to The Columbus Historical Society and tour of the World War I Exhibit
Join us on Sunday APRIL 28 at 1:30 p.m., 717 West Town Street, Columbus, OH.
The exhibit is open from 12:30 until 4:00 p.m. Dennis Keesee will lead a guided tour starting at 1:30 p.m. Admission and parking are free.  After the tour, those that wish may meet at the nearby Spaghetti Warehouse to enjoy a meal together.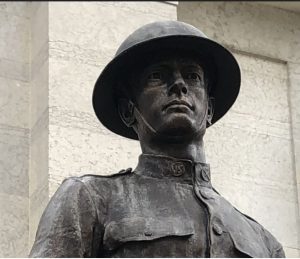 More information may be found on the Columbus Historical Society's website

New Albany Founders Day
Saturday May 18, 2019
The Dr. Glyde A Marsh Founders Day parade starts at 11am.
The Ealy House will be open to visitors after the the parade until 3pm.
More information about the parade and festival may be found on the New Albany Founders Day website
75th Anniversary of D-Day – Remembering Ohio's Soldiers
Join us Thursday June 6 at 7:00pm at New Albany United Methodist Church, 20 Third St. New Albany, OH 43054.
As The Brave Fade Away,
The Video Biography of Pearl Harbor Survivor Milton Mapou will be the Society's April 4, 2019 7:00 meeting presentation at Wesley Woods Senior Center 4588 Wesley Woods Blvd., New Albany, Ohio.  The video was filmed in New Albany by residents Mark Easton and Dennis Keesee with Greg Keller to raise funds to send Milt to the 2016, 75th Anniversary of the December 7, 1941 surprise attack. After an eventful life Milt at last joined his Navy friends this past January 17, 2019 at age 97.
Please join us as we remember Milt and pay tribute with a moment of silence for all the PH casualties.