DON RANNEY INTERVIEW 2020
On October 23, 2020, I asked Don Ranney to join me at Eagle Pizza for a photo shoot in front of the 75th Anniversary of the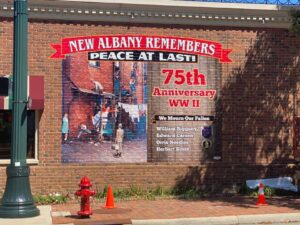 end of WWII commemorative mural I had placed on the side of our building. The Peace at Last Mural was featured on the front cover of our last newsletter with Don standing in front wearing his new USS Oklahoma City hat.
After our photographs were taken, we went inside and started to talk about New Albany and the war. As he was talking, I thought I should record our conversation so placed my phone on the table with the record button on. The conversation picks up as he is describing his trip aboard the USS Oklahoma City to Norfolk, Virginia. Don at the time was the last living WWII veteran that enlisted from New Albany and Plain Township during WWII. Today there are two WWII veterans still alive that have called New Albany and Plain Township home, Jim Bryant who has lived on Harlem Road for many years and Mike Pohorilla who moved here a few years back. But let history record that Don was the last of our young boys and men that served. In fact, not many months after this impromptu interview, Donald Taylor Ranney joined his comrades in rest on March 14, 2021, at the age of 94. Ironically, I had interviewed his father Clark Ranney in 1985 shortly before his death when he was the last living WWI veteran from the New Albany area as well.
Don: ……. then come back and then we got another leave and then we went from there down through Norfolk [Virginia] through the Panama Canal for Hawaii and then we stayed out there for a week or two. They put some guns or something on our ship there, because they couldn't get—- Them aircraft carriers couldn't get through that Panama Canal so they had to take them over to Hawaii to do the rest of the work on them. To get them fit for the South Pacific, yeah.
Dennis: So when you left Hawaii were you part of the Guadalcanal…
Don: We were part of the Third Task Force…
Dennis: Were you there when they were doing any of the Island Invasions?
Don: Yeah, we were all out through the Islands. I got a book. It's what they call a yearbook that tells the history of the ship. We actually didn't get into much battle. We were in the later part of the war. We got two or three scares out there but they never got into us.
Dennis: And then you were picked to be one of the ships that actually got to go into Tokyo Bay of which not all of them went in, or did the whole Fleet go in?
Don: Well, there was, I don't know how many ships was in there, there wasn't too many in there, we was right up with the rest of them.
Dennis: How close were you to the Missouri?
Don: Oh, we was probably from here to across the street there. We dropped anchor all around there. We was all sitting out on the deck watching what was going on. [Don motioned out the window across High Street from Eagle Pizza in New Albany, Ohio.]
Dennis: Did you see the Japanese little boat come out with all of the dignitaries?
Don: Well, they was all on board when we got out there, but we went in there about 10 o'clock in the morning I think. We had been in there and shelled the coastline about a week before that, and Mom wrote me a letter saying I knew where the Oklahoma City was, it was shelling the coast of Japan. But they went in there and shot off a few rounds of six-inch stuff at night and then came back out before daylight. But that was right when the war was starting to get over, right after they dropped the bomb.
Dennis: So then did all the guys cheer from your ship when they saw the surrender or did you really know when they were signing the papers?
Don: No, nobody said anything. It was just three or four Jap officers standing there and McArthur was at his desk writing out the treaty.
Dennis: And then it was over and then what, you sailed out that day…
Don: We pulled out and then we stayed around there about six months and policed the place. I got back out in [19]46.
Dennis: So you were in occupation?
Don: We stayed over there and the war was over in the fall of '45, we stayed over there and policed the place so they wouldn't start back up. I know they gave us orders that if any sampans [a small Japanese vessel] come around to hose them down to keep them away from the ship. They didn't know if they were going to blow a hole in the side of it [the USS Oklahoma City] or what. They were still fighting over there in them caves a year after the war was over. The Japanese were trying to get more food for their people and was trying toraise sugar and stuff on those islands. That was the reason they were wanting to take over Pearl Harbor, I don't know what that was all about.
A SHORT HISTORY OF THE USS OKLAHOMA CITY AND DON RANNEY
The USS Oklahoma City was christened on December 22, 1944 and started her shakedown cruise in late January of 1945. On April 10th the long trip heading for the Panama Canal and eventually Hawaii was commenced. While there they passed the burned-out USS Franklin that was making her slow way east for repairs. The sight warned the men of what may lie ahead as they headed to war against a powerful and stubborn foe in the Pacific. On May 18th they left the safety of Hawaii and traveled to join the Third fleet off the island of Kyushu. At last, they were with the "real deal." The Okinawa campaign was nearing a close and Kyushu was being bombed to keep the Kamikaze boys down.
On June 10th they headed for Leyte Gulf and soon after headed forward to San Pedro Bay in the Philippines, the most forward base of the US Navy. On July 1, 1945, the task force and the Oklahoma City headed for the coast of Japan and spent the next few months running up and down the coast of Japan shelling everything and anything that moved. Eventually they were close enough to shell Nojima Cape, south of Tokyo. Luckily during this time hardly any Japanese aircraft were encountered. No feared Kamikazes were encountered. Soon the Atomic Bombs were dropped and as history knows, World War II soon ended. Don and his crew members had been at sea for 72 consecutive days before dropping anchor in Tokyo Bay. By September 15th they were back patrolling the Honshu coast before finally heading home in December of 1945.
Don returned home to his parents Clark and Martha [Taylor] Ranney as he stated in 1946. He had been born on March 17, 1926 and was one of eight children. He worked on lawn mowers, old cars, and construction most of his life. His life-long passion was flying radio-controlled airplanes. He left a few hundred at his request to his beloved Corks Flying Club which he was a member of for many years. He continued to live in his parents' home on the corner of Harlem Road and Dublin-Granville Road until his death in 2021. He had never married and was a very quiet man that I don't believe I ever saw angry or not smiling. He always had a great smile.
— Dennis Keesee