The 75th Anniversary of D-Day, June 6 1944-2019
On June 6, the Historical Society hosted a D-Day 75th Anniversary event at the New Albany United Methodist Church. A heartfelt thank you goes out to Monica Morgan for procuring the church including the rental fees; Helen Pestel for letting us in early and hurriedly helping to set up additional chairs; Doug Brahler for helping to set up the WWII exhibit; and Robert Goodrich and Chandler Kisiel for all their help.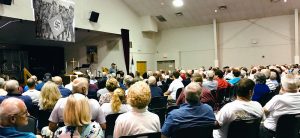 A special thanks goes to non-members Dirk Stevens who unselfishly spent three days working on the Jakeway video, getting sound and video to work at the church and more; Sarah Joseph and Katelyn Steele for dressing in WWII uniforms and acting as hostesses; Eric Myers who with a moment's notice showed up at the church and helped to carry everything and set up all that was asked; and Bob Croce who supplied our much needed WWII paratrooper uniform. 
A thank you is also deserved by the family of Don Jakeway, Kim, Dave, Tanner, and especially Trent who, dressed as a paratrooper, surprised his grandfather that night (Don and Trent at left). Trent read an interview that Don gave to Cornelius Ryan in the 1950s while Mr. Ryan was working on The Longest Day. His portrayal of Don as a WWII paratrooper was worth everything put into the night. The cover photograph of grandfather and grandson, taken by member Bill Resch, is one for the ages. 
The event was well attended with over 200 in attendance, many from the Johnstown area.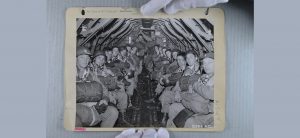 The presentation depicted how the history of D-Day started with reporters and photographers, newspapermen, and the soldiers themselves who shared their stories throughout the last 75 years. The highlight was a 15-minute video showing Don Jakeway being interviewed by historians Richard Baumgartner and Dennis Keesee. We intended to honor Don on that night and he was very touched.
Amazingly, we had another D-Day veteran, Bob Locker of the 9th Airforce, attend at the request of Ronda Anderson (pictured at left with Bob Locker). It was an honor to have two veterans attend 75 years after that historic day.